Together with the new, completely revised MacBook Air, Apple also announced a new version of the 13″ MacBook Pro. This still uses the old LC display technology and the unpopular touch bar. However, thanks to the M2 chip, you can expect the new version It's a decent performance leap, but you should weigh the options when making your purchase.
13″ MacBook Pro: Watch out for the entry-level model
Like the YouTube channels "max tech" such as "Created Tech" found in a test that there are problems with the small 256 GB SSD of the "13" MacBook Pro" base model. Compared to the previous version, it is significantly slower – up to half!
For the videos, the creators used the Blackmagic Disc Speed ​​Test benchmark application to check the transfer rates. Both channels found that the new 256 GB SSD is significantly slower than that of its predecessor. This is particularly noticeable in the read speed, which was 2,900 MB/s in the M1 MacBook Pro and only 1,446 MB/s in the new model. This means that the new SSD only reads about half as fast as its predecessor. The difference in writing speed is a little smaller and is around 34 percent below the previous year. It fell from 2,215 MB/s (M1 model) to 1,463 MB/s (M2 model) in comparison. However, this should only affect the basic model with 256 GB. If you decide on a variant with more memory, then both SSDs are on a similar level.
Why is the 256GB SSD slower in the M2 MacBook Pro?
The YouTube channel "Created Tech" took a closer look at the hardware and unscrewed the two MacBook Pro models. Inside, Apple made more changes than expected. For example, the company still uses two 128 GB SSDs with NAND technology for the M1 model from 2020, while the successor only has a 256 GB SSD (NAND). This is important because the two individual NAND chips allow higher speeds to be achieved in parallel. It can be assumed that Apple wants to save costs with the individual chip.
--Advertisements--
So if you're flirting with a new 13″ MacBook Pro with an M2 chip, you should increase your memory to at least 512 GB for optimal performance.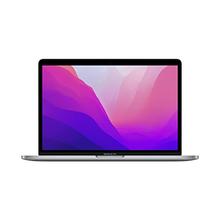 2022 Apple MacBook Pro laptop with M2 chip: 13″ Retina display, 8GB RAM, 512 GB SSD storage, Touch Bar, backlit keyboard, FaceTime HD camera. Compatible with iPhone/iPad; Space Gray ​​​​​

€1,829.00
Tag: macbook issue, macbook pro, macbook release, macbook macos