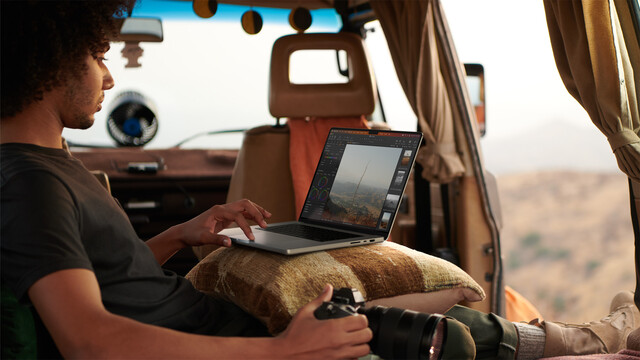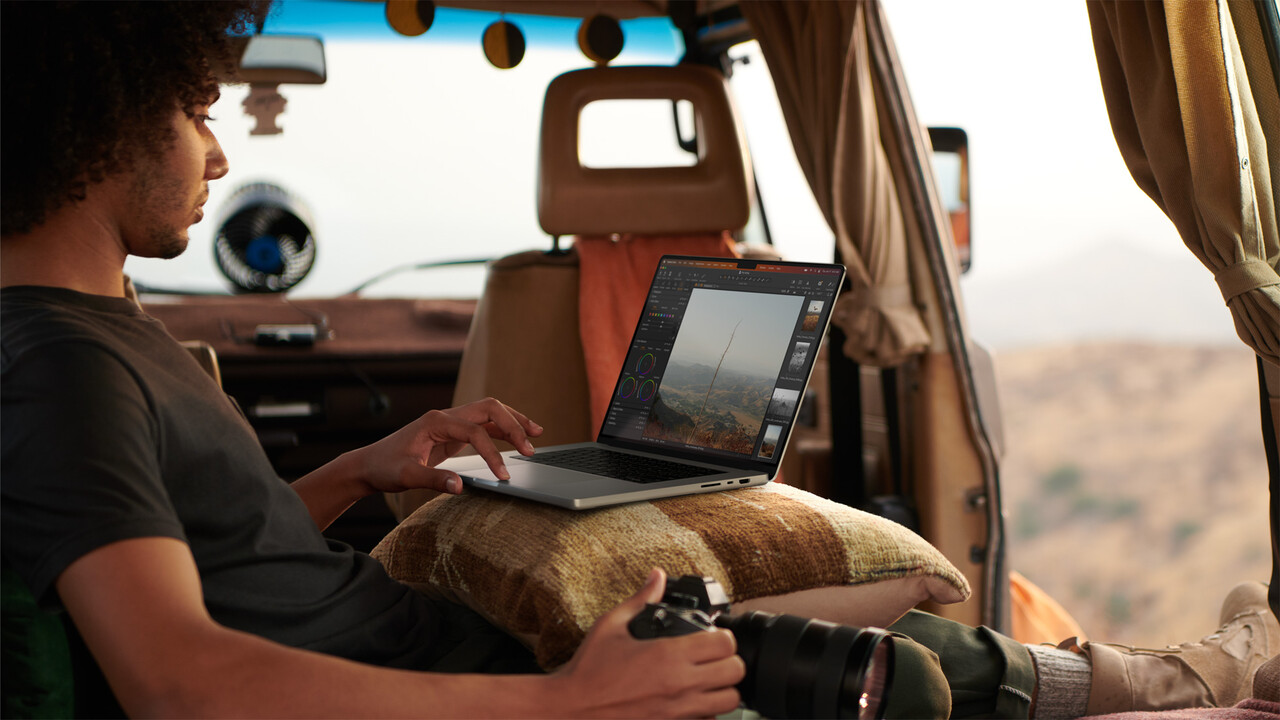 As recently expected, Apple has updated the 14″ MacBook Pro and 16″ MacBook Pro today. With M2 Pro and M2 Max there are more CPU and GPU cores, but also new are Wi-Fi 6E and HDMI 2.1, which also supports 8K displays. Apple has also turned the price again and made entry into both models more expensive.
14″ MacBook Pro with M2 Pro or Max from 2,399 euros
Apple offers the M2 Pro with 10 or 12 CPU cores (up to eight high-performance and four efficiency cores), whereby the 10-core variant in combination with the 16-core GPU is only available in the smallest configuration of the MacBook Pro 14 to choose from, which offers 16 GB of RAM and a 512 GB SSD. This model now costs from 2,399 euros, after it was previously available for 2,249 euros with the M1 Pro (8 cores) and identical 16 GB RAM and 512 GB SSD.
On the other hand, the larger M2 Pro, which offers 12 CPU and 19 GPU cores, is now available for 2,999 euros for the 14″ MacBook Pro. The price of the larger standard configuration, which still offers 16 GB RAM and 1 TB SSD, has increased from the last 2,749 Euro with M1 Pro (10 cores) is also clear. The new largest configuration of the 14″ MacBook Pro with M2 Max with 12 CPU and 30 GPU cores with 32 GB of RAM and 1 TB SSD costs 3,699 Euro.
But even that does not represent the maximum configuration of the M2 Max, because in addition to 12 CPU cores, it can offer a total of 38 GPU cores (+230 euros), which can be combined with 96 GB of RAM (+920 euros). With the SSD, Apple offers up to 8 TB for a surcharge of 2,530 euros. The 14″ MacBook Pro can be upgraded to a price of 7,379 euros.
--Advertisements--
16″ MacBook Pro from 2,999 euros
The MacBook Pro with a 16-inch display started at 2,749 euros and offered an M1 Pro with 10 CPU cores, 16 GB RAM and a 512 GB SSD, but now 2,999 euros are due, for which the buyer can buy an M2 Pro with a 12 CPU – and 19 GPU cores with unchanged memory configuration.
If you want the M2 Max with 12 CPU and 38 GPU cores as well as 32 GB RAM and 1 TB SSD, 4,149 euros are estimated. Previously, this configuration with M1 Max was set at 3,849 euros.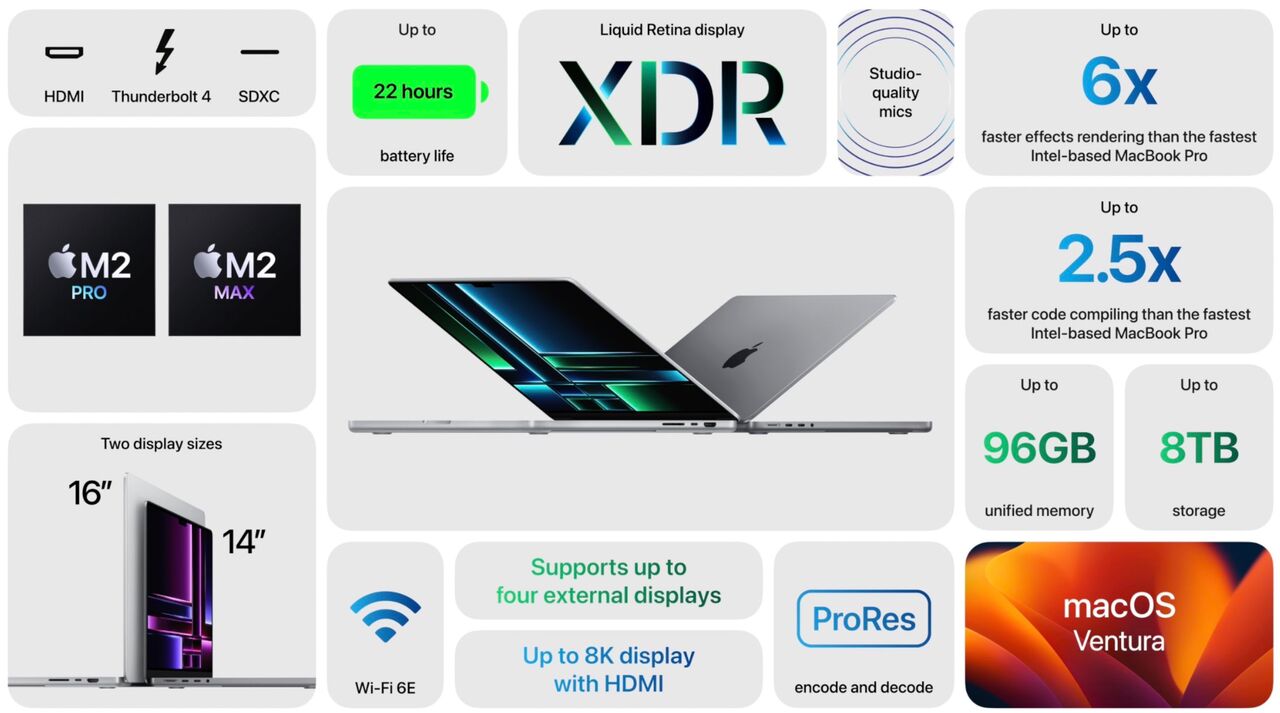 20-30 percent more power
According to Apple, the M2 Pro offers up to 20 percent more performance than the M1 Pro. At 200 GB/s, the memory bandwidth is also twice as high as that of the M2. According to Apple, the GPU delivers up to 30 percent more graphics performance and the neural engine is 40 percent faster than before, which should benefit video analysis and image processing in particular.
More than just the M2 new
In addition to the M2 Pro and M2 Max, the new models offer Wi-Fi 6E with 6 GHz (IEEE 802.11a/b/g/n/ac/ax) for the first time, with Apple speaking of a maximum twice as fast transfer rate. The HDMI connection now also supports HDMI 2.1, so that 8K displays are supported at up to 60 Hz and 4K monitors can be addressed at up to 240 Hz.
Longer battery life
According to Apple, the new models have the longest battery life of any Mac ever. It should be up to 22 hours.
Nothing changes in terms of color and design, both models are still available in space gray and silver. The new models also stick to the three Thunderbolt 4 connections, the SDXC card slot and charging via MagSafe 3.
Available from January 24th
The new MacBook Pro with M2 Pro and M2 Max can can be pre-ordered from today. Deliveries will start in a week, on January 24th.
Tag: macbook issue, macbook pro, macbook release, macbook macos