That comes from one new report from forth, referring to a Apple patent application supports. The rumor is therefore treated as hot, even if there is never a guarantee that Apple will actually incorporate patented developments into a marketable product.
However, that would be particularly desirable for the "Zero Border Display" for the MacBook Pro: With the current generation of 14 and 16 inch models, Apple has already significantly improved the display and repeatedly made the frame shrink. Nevertheless, as with the iPhone, a notch, i.e. a relatively large and therefore conspicuous indentation at the upper edge of the display, has remained. Anyone who works on the MacBook is therefore often quite annoyed by this dead piece of the display.
--Advertisements--
The new Apple invention could make the notch superfluous for the coming MacBook Pro generation. In order to eliminate the screen edges on the 14-inch MacBook Pro and the 16-inch MacBook Pro once and for all, the company relies on a hybrid technology.
The newly granted patent calls it "Hybrid Architecture for Zero Border Display" and thus relies on two displays in one. Apple explains it like this:
"Common types of displays include active matrix display panels, where each pixel element, e.g. a light emitting diode (LED), can be individually driven to display a frame of data, and passive matrix display panels where rows and columns of pixel elements in a frame of data can be driven. Both active and passive matrices have been proposed for the fabrication of tile displays," it continues, "where the dimensions of the display panels exceed the constraints imposed by substrate and device size limitations."
The proposed solution is therefore a "tile-based" display. In the upper area, where sensors are still used, the display would then have to do without the quality of the "main display" – but it would be better to display menu elements with a sufficiently large resolution.
--Advertisements--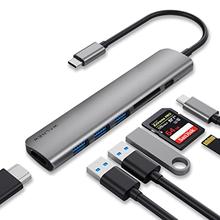 USB C Hub, WALNEW USB C Adapter MacBook Pro, 7-in-1 Type C Hub with 4K HDMI Output, 3 USB 3.0 Ports, SD/TF Card Reader, 100W PD for iPad Pro/MacBook Pro/Air(Thunderbolt 3)/ and more Type C devices

€27.99
Tag: macbook issue, macbook pro, macbook release, macbook macos