from Rob Fri, January 27, 2023 | 4 pages | read this article in one page
--Advertisements--
With the new M2 Max processor, Apple is introducing its most powerful notebook processor to date. With 12 CPU and 38 GPU cores, Apple's latest unified memory design provides even more performance for the areas of video editing, compositing and color correction that are of interest to us than the already very powerful M1 Max predecessor.
Our first test of the new MacBook Pro with M2 Max processor, using various 10-16-bit video material, explains what this increase in performance looks like in editing practice.
--Advertisements--
MacBook Pro 16″ with M2 Max Apple Silicon
From the outside, the new MacBook Pro 16″ with M2 Max CPU does not differ from its predecessor with M1 Max processor – which we personally welcome. The current MacBook Pro 16″ also has a "media-friendly" integrated SDXC card slot, 3 Tunderbolt 4 connections, MagSafe 3, as well as a headphone connection and full-size HDMI port.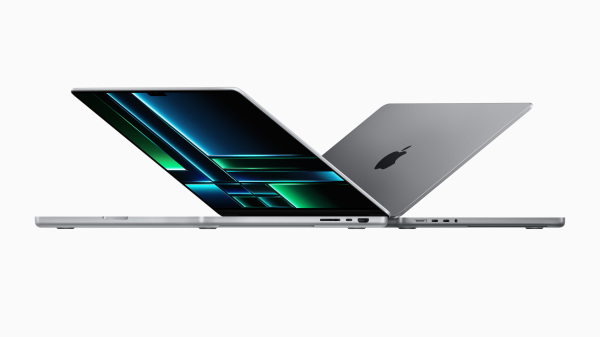 The decisive innovations can then also be found under the hood of the new MacBook Pro 16″. The new M2 Max CPU now has a total of 12 cores (8 performance and 4 efficiency cores) and 38 GPU cores. The new M2 Max system has also increased the maximum possible working memory. Up to 96 GB of shared memory is now possible, which currently allows for huge 3D scenes (e.g. 60 GB 3D scenes in Octane X) and could become relevant for KI/AI calculations in the future.
The additional GPU cores – but above all HDMI 2.1 – also offer other advantages in practice. In addition to the full native resolution of the internal display including 1 billion colors, up to four external displays can now be operated, some with higher frequencies: Up to three external displays with 6K resolution at 60 Hz via Thunderbolt and one external display with up to 4K Resolution at 144 Hz via HDMI.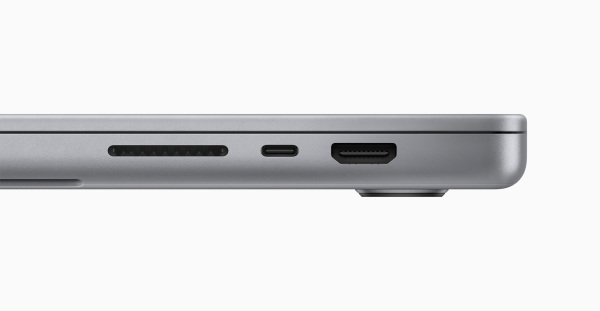 Thanks to HDMI 2.1, external 8K displays can now also be operated on the HDMI port for the first time. A corresponding multi-display setup including 8K could then look as follows: Up to two external displays with 6K resolution at 60 Hz via Thunderbolt and one external display with up to 8K resolution at 60 Hz or one external display with 4K resolution 240Hz via HDMI.
And speaking of the display: When it comes to the display specs, Apple is based on the previous MacBook Pro 16″ series with a 16.2″ Liquid Retina XDR display (41.05 cm diagonal)1, 3456 x 2234 native resolution at 254 ppi, a contrast ratio of 1,000,000:1 and an XDR brightness of 1000 or an SDR brightness of 500 nits. P3 color space is supported.
The M2 Max system has also increased in terms of SSD speed compared to our previous M1 Max test. Here are the two Blackmagic Diskspeed tests for comparison: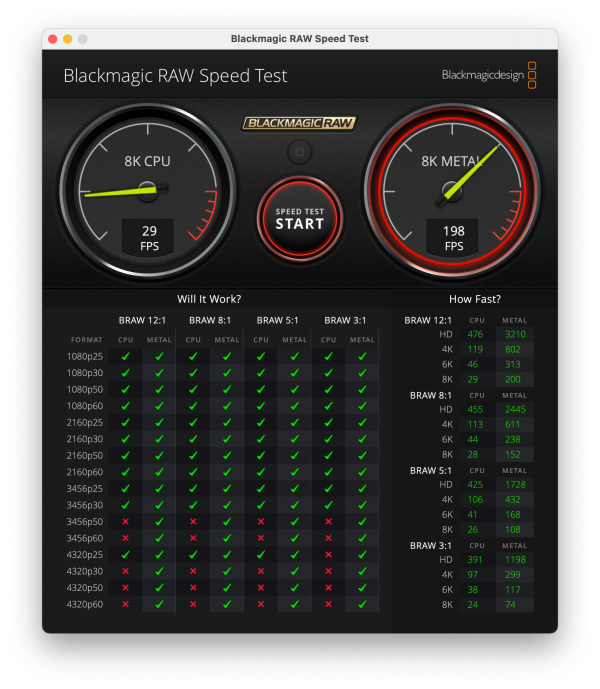 MacBook Pro M1 Max speed test
While the M1 Max MacBook Pro was over at 4320/30p BRAW 12:1, the M2 Max system tested here with 2 TB SSD clearly overtakes it up to 12K DCI 60.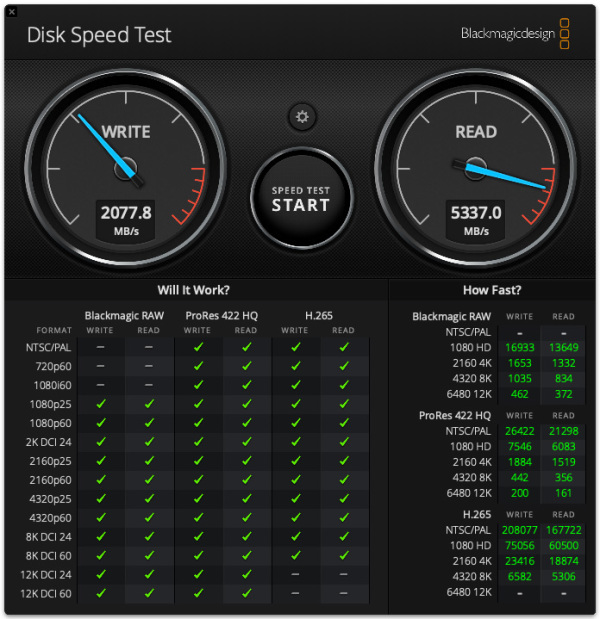 We also find it remarkable that despite a noticeable increase in performance – more on this below – Apple was also able to slightly extend the battery life of the MacBook Pro (by 1 hour to 15 hours of wireless surfing, or now 22 hours of movie playback with the Apple TV app. And this although the structure width of the M2 Max processor is still moving to 5nm. We suspect that Apple can either get more out of the battery here or via software efficiency optimization still something on the already excellent performance per watt of its Mobile computer could screw.
In our subsequent tests, you should keep in mind that the MacBooks with Apple silicon only show minor drops in performance on battery power – in contrast to other high-end laptop systems.
But now the curtain rises to our 4K video editing performance tests with the current M2 Max in Apple's Final Cut Pro, Blackmagic DaVinci Resolve and Premiere Pro (8-12K resolutions in the second part):
[noch keine Leserkommentare] [Kommentar schreiben]

More articles:
Test: Comparison: MacBook Pro M1 Pro vs M1 Max in average performance test with Resolve, Premiere and FCP Tue, February 15, 2022
More MacBook Pros with Apple silicon have arrived at the slashCAM editorial office. After we were able to test the maximum configuration of the M1 Max with 64 GB of unified memory, the 32 GB M1 Pro and the 32 GB M1 Max versions are now being added. So how do the new MacBook Pro processors differ in editing performance with Canon, Sony, Panasonic etc. material under DaVinci Resolve, Premiere Pro and Final Cut Pro?

Test: MacBook Pro 16″ M1 Max in a performance test with ARRI, Sony, Canon, Panasonic, Blackmagic … Part 1
Fri, November 12, 2021

Test: Apple MacBook Pro M1 Max – Strong performance under DaVinci Resolve
Thu, October 28, 2021

Review: Flat HDR workstation to go – MSI Creator 17
Mon, October 5, 2020

Test: Lenovo Legion Y540 17IRH – RTX 2060 gaming laptop in a workstation guise
Tue, July 14, 2020

Test: AMD XFX Radeon RX 5600 XT graphics card – average mid-range
Fri, May 22, 2020

Test: Gigabyte AERO 17 HDR – Flat 17 inch notebook with 4K HDR display
Thu, April 30, 2020

Test: HP 17 inch Pavilion Gaming – reasonable budget video editing notebook?
Tue, September 17, 2019

Review: MSI Ventus Geforce RTX 2080 – Best graphics card for 4K/8K video editing?
Thu, January 3, 2019
[nach oben]

Tag: macbook issue, macbook pro, macbook release, macbook macos