"Touch ID" is Apple's own fingerprint scanner that can be used to unlock iPhones. However, the feature has not been available since the iPhone 8. Before the official presentation of the new iPhone generation, there were repeated rumors that "Touch ID" could return on the iPhone 14.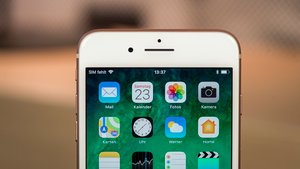 Meanwhile, the iPhone 14 has been released. What about the reintroduction of "Touch ID"?
--Advertisements--
When is Touch ID coming back to the iPhone?
Even though there have always been alleged leaks and rumors about a return of the fingerprint sensor, the function does not exist on the iPhone 14. The iPhone 14 can also do without "Touch ID".. The latest iPhone with the corresponding feature is the second generation iPhone SE, which was released in 2020.
For a long time, they mainly came from the always well-informed Apple analyst Ming-Chi Kuo supposed information via a "Touch ID" sensor in the iPhone 14. In 2019, he assumed that Apple would have the technical requirements "after 18 months" and thus be suitable for the iPhone 14. Kuo subsequently corrected his assessments.
The return of the "Touch ID" sensor is therefore not completely cancelled. Instead, it is pushed further back. The fingerprint scanner could not return to the iPhone until 2025. So according to the current calculation Only the iPhone 17 is "Touch ID" capable again be.
--Advertisements--
According to Mark Gurman, Apple is testing a Touch ID function below the display. However, the iPhone 15 will not have this option.
No fingerprint scanner on iPhone 14
The "Touch ID" sensor should be completely hidden under the display and therefore invisible. The fingerprint unlock method was introduced with the iPhone 5s and was an integral part of the iPhone features in the following generations up to the iPhone 8.
Various versions of the iPad and MacBooks also use "Touch ID" to unlock the device. Current iPhones, on the other hand, work with "Face ID", where the device is activated by face recognition. Since iOS 15.4, this also works with a respirator. With a little preparatory work, the iPhone can also be unlocked by voice command.
Don't want to miss any more news about technology, games and pop culture? No current tests and guides? Then follow us
Facebook
or Twitter.
Tag: iphone design, iphone 14, apple iphone, iphone release