The presentation of the new smartphones
iPhone 14
,
iPhone 14Plus
,
iPhone 14 Pro
and
iPhone 14 Pro Max
was one of the highlights of the Apple keynote. Instead of a mini model, there is a large standard model with the iPhone 14 Plus. Technical innovations tend to be reserved for the two more expensive Pro models. It didn't really come as a surprise, but many are stunned or even annoyed by the pricing and increase of around 20 percent. Only the iPhone 14 with a meager 128 gigabytes is still under 1,000 euros, the top models break the 2,000 euro mark. The online price comparison portal
idealo dares to forecast price developments
which clarifies whether the wait is worth it.
The basis for the price forecast for the iPhone 14 models is the market price development of the predecessors iPhone 12 and iPhone 13. Idealo considered the smallest memory variant with 128 gigabytes. If you are looking for cheap offers with a contract, you will find information in the article Pre-order/buy iPhone 14.
Price prediction iPhone 14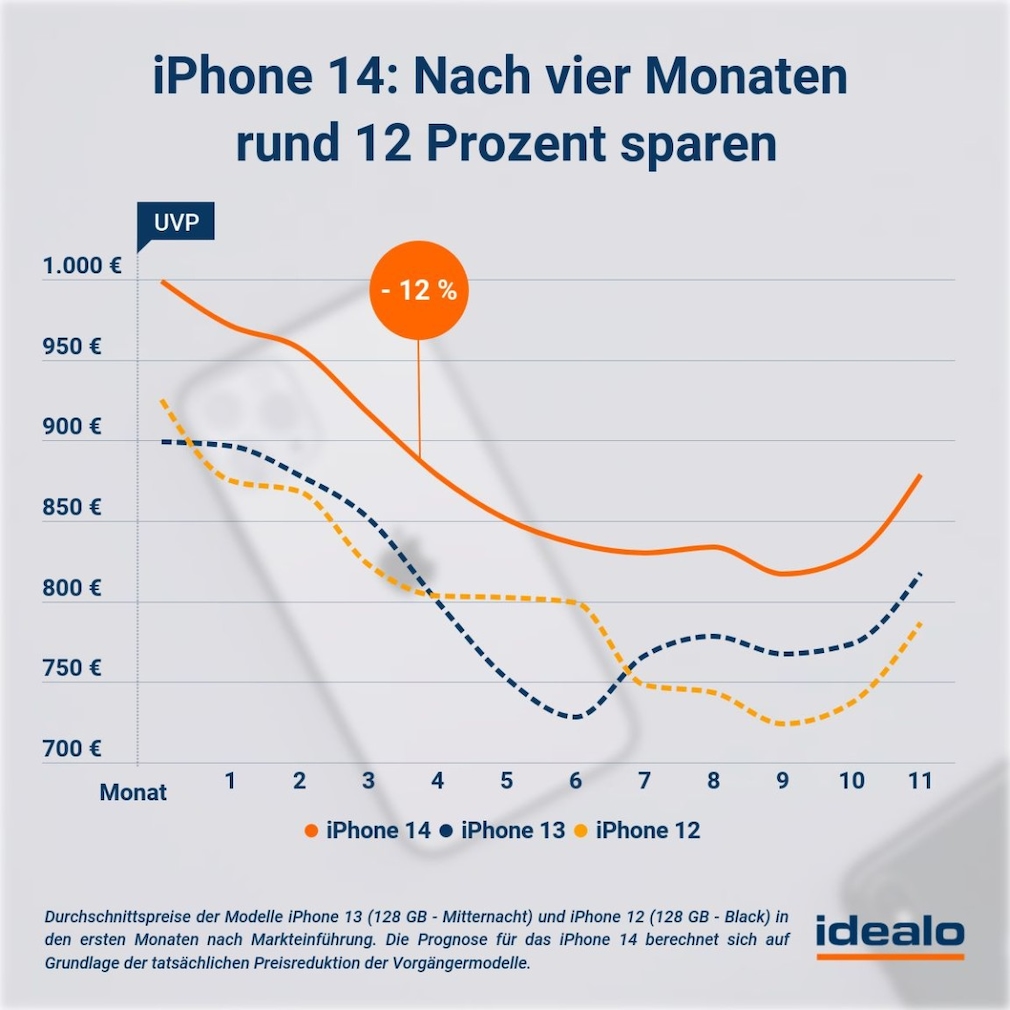 In the first three months after the start of sales, the price of the iPhone 14 should hardly change. From the fourth month, the savings are finally over ten percent. Compared to the RRP of 999 euros, you then pay about 120 euros less. After 15 months or more, you can probably save at least 15 percent.
Price prediction iPhone 14 Pro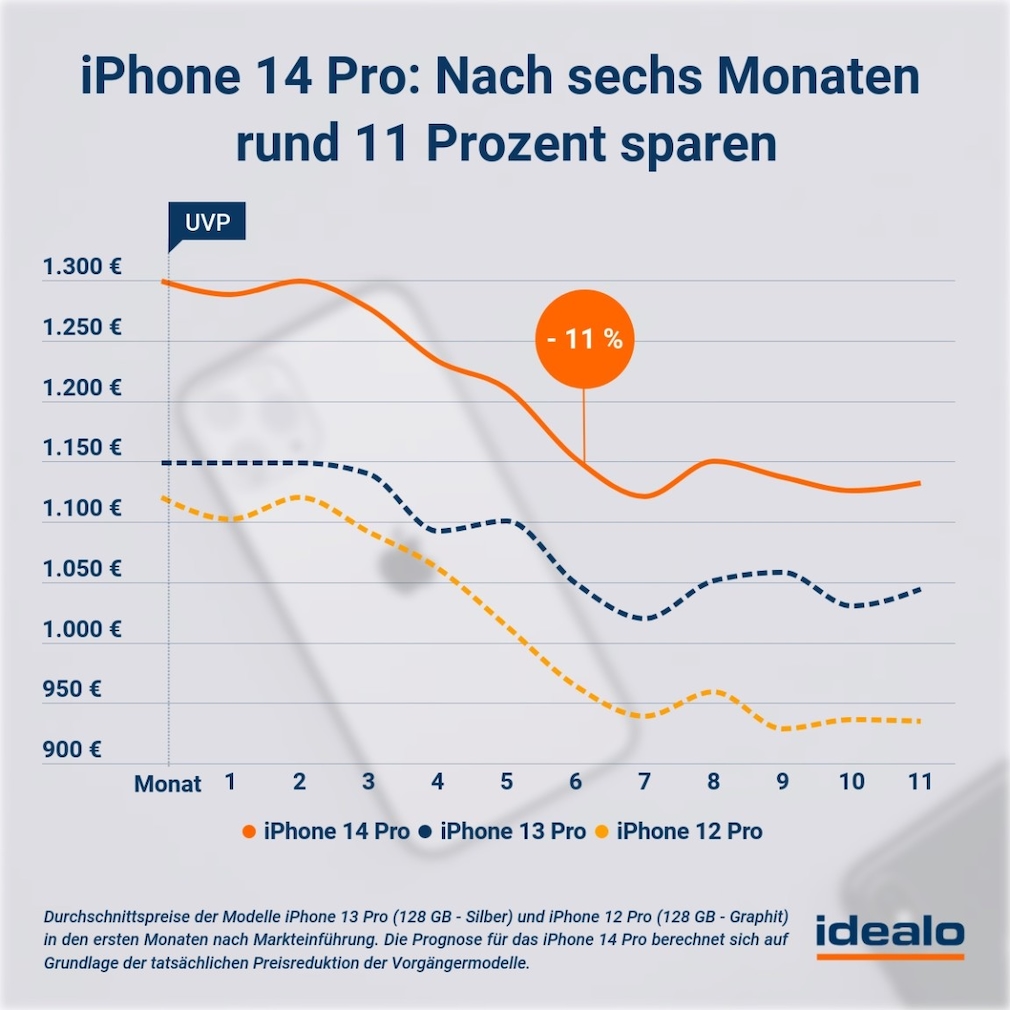 According to the forecast, the price of the iPhone 14 Pro will remain quite stable in the first few months after the release. A noticeable drop in prices of 10 percent and more will probably only occur after six months. Then save up to 180 euros.
Price Prediction iPhone 14 Pro Max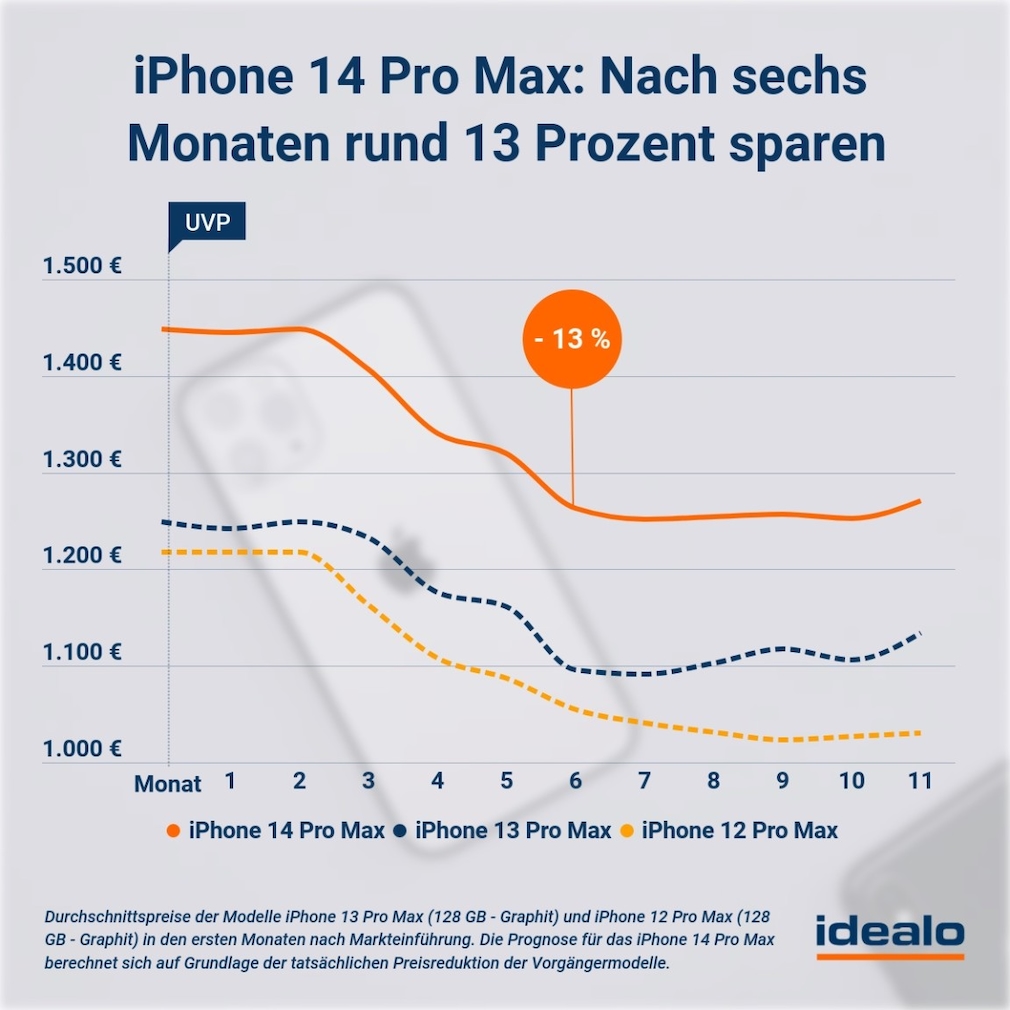 With a starting price of 1,449 euros, the iPhone 14 Pro Max is the most expensive model. In absolute terms, the greatest savings can be expected: after six months, the iPhone 14 Pro Max could cost around 185 euros less, and after seven months around 197 euros less. In percentage terms, the savings potential would then be between 13 and 14 percent.
Rather gradual fall in price
Overall, the prices of the new iPhone 14 series could fall more slowly than those of the previous models – a trend that, according to the idealo evaluation, has already become apparent with the iPhone 13: For example, the price of the iPhone 12 Pro was down 14 percent six months after its introduction dropped, the savings on the iPhone 13 Pro were still less than 10 percent at the same time. The iPhone 13 Pro has not broken the 1,000 euro mark, which the iPhone 12 Pro fell below after six months. Florian Kriegel, price expert at idealo, explains: "Our data shows that the prices of the Apple iPhone have been more stable recently – so the price decline is progressing more slowly. It is therefore likely that the prices of the new iPhone 14 models will also decrease less quickly and could fall less sharply. The reasons for this are likely to be the overall increase in price levels and the tense macroeconomic situation. This also includes a weak euro and ongoing disruptions in the supply chains."
Tag: iphone design, iphone 14, apple iphone, iphone release