Apple fans had already marked September 7, 2022 in red on their calendars, because under the motto Far out was the first live event in years. Of course, the next iPhone generation was also presented. The iPhone 14 comes in four different variants. A new iPhone Mini was not included. Instead, a 6.7-inch comes iPhone 14Pluswhich is intended to build a bridge to the Pro variants.
However, the prices came as a bit of a shock to many viewers. In times of inflation and a weak euro, you have to put at least 100 euros more on the table for the start of sales on September 16 (pre-orders from September 9) than with the previous generation.
The new iPhone 14 family
--Advertisements--
iPhone 14 (6.1″ display) from 999 euros
iPhone 14 Plus (6.7″ display) from 1,149 euros
iPhone 14 Pro (6.1″ display) from 1,299 euros
iPhone 14 Pro Max (6.7″ display) from 1,449 euros
If you are patient and wait a few months, you can save significantly compared to the hefty RRP. At least if you Price forecast by idealo may believe. This is based on the market price development of the previous models iPhone 12 and 13 and indicates that after around 4 months there is already a discount of around 12%.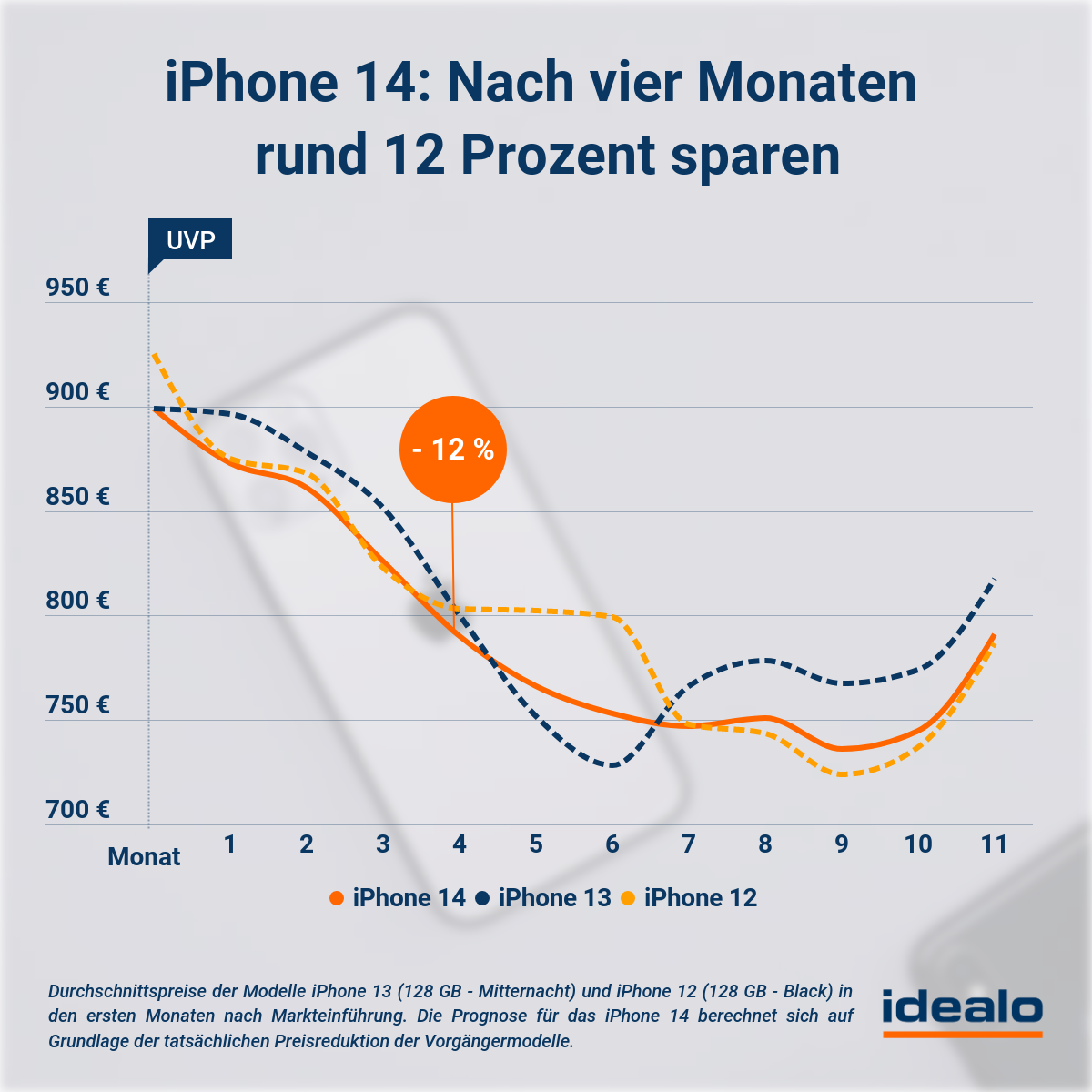 Wait and save on iPhone 14
Experience has shown that prices hardly fall in the first few months after release. But if you still don't have an iPhone 14 in 2022, you can expect price savings of around 100 euros on offers after the fourth month — i.e. around mid/end of January 2023. After 5-6 months you could even save more than 15% off the RRP by looking for the best deals.
iPhone 14 Pro and 14 Pro Max between 11% and 13% cheaper after 6 months
The buyers of the Pro versions can also be rewarded for their patience if they manage to wait around 6 months for the object of desire. Here the price should hardly move in the first 2-3 months. After around half a year (i.e. in spring 2023), around 11% savings are possible for the iPhone 14 Pro and up to 13% for the Pro Max.
Even if idealo underestimated the RRP of the new iPhone models, this should not change the forecast price trend. But it's just a prediction based on experience with the last iPhone generations. It remains to be seen how the economic situation will develop and how customers will respond to the price increase Apple react. In any case, if the old iPhone will do for a few more months, there is nothing wrong with waiting to upgrade to the iPhone 14 and keeping an eye out for special offers.
--Advertisements--
Tag: iphone design, iphone 14, apple iphone, iphone release