The screen stays on!
Apple in many ways the iPhone 14 differs more significantly from the iPhone 14 Pro. Not only did the company decide to use different processors that give the Pro a performance boost, but Apple is also expanding the capabilities of the OLED display. After 2021 ProMotion was used in the Pro models, the iPhone maker adds a new feature using LTPO technology, allowing the screen to adjust the frame rate variably between 1Hz and 120Hz. The low frame rate enables the new always-on feature, which keeps the display switched on at all times. This allows you to keep track of your new widgets and incoming notifications without waking up the screen.
--Advertisements--
Welcome to Dynamic Island
The rumor mill confirmed it months ago: the camera notch has disappeared from the Pro models. However, it doesn't work without a front camera and that's why the Dynamic Island is now available. Apple describes an image section that hides the camera and at the same time offers new possibilities for multitasking. For example, you can quickly control activities running in the background, such as music.
[linktip article_1="121311″ layout="big" /]
iPhone 14 Pro: All prices and availability information
All new iPhone models have been available to order from Apple and selected retailers since September 9, 2022. According to Apple, the first devices should reach the first customers as early as September 16, 2022. The prices this year are as follows:
iPhone 14 Pro: 1,299 euros (128 GB), 1,429 euros (256 GB), 1,689 euros (512 GB), 1,949 euros (1 TB)
iPhone 14 Pro Max: 1,449 euros (128 GB), 1,579 euros (256 GB), 1,839 euros (512 GB), 2,099 euros (1 TB)
If you want to discover new features, click through our gallery now.
--Advertisements--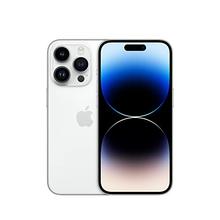 Apple iPhone 14 Pro (128GB) – Silver

€1,299.00
Tag: iphone design, iphone 14, apple iphone, iphone release