In a few hours, the first customers in New Zealand and Australia will receive the iPhone 14 and the iPhone 14 Pro. There are already a few lucky ones who received one of the new devices prematurely – such as the YouTube channel PBKreviews. He also immediately disassembled the received iPhone 14 Pro Max and thus offers a first look at the inside of the new model.
What's in the iPhone 14 Pro Max?
With the screen removed, you already get a good look. After all, Apple has hardly changed anything compared to the direct predecessor. The breakdown of the components is almost identical. The battery is also the centerpiece and is integrated in the familiar L-shape. However, it can be determined that the logic board has received a new cover. "A16 Bionic" is engraved on it in large letters. However, the cover serves another purpose in addition to protecting the motherboard: It is equipped with small pads and is intended to ensure better heat dissipation.
Then we continue with the battery, which by the way is smaller than the predecessor. It only has 4,323 mAh, while the iPhone 13 Pro Max had an even higher capacity (4,352 mAh), although the difference in everyday life is insignificant. Especially since the A16 Bionic works much more efficiently, Apple promises a longer runtime of up to an hour for tasks such as video playback.
You can also clearly see from the components that the lenses of the triple camera have become larger – mainly the main camera with the new 48 MP sensor. The TrueDepth camera went in the opposite direction. It takes up about 30 percent less space than it did a year ago.
Overall, the new model looks very structured, so that individual parts can be replaced relatively easily. The channel therefore awards 6.5 out of 10 points for repairability.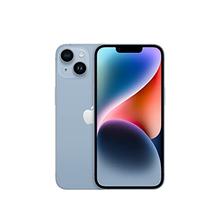 Apple iPhone 14 (128GB) – Blue

€999.00
Tag: iphone design, iphone 14, apple iphone, iphone release