According to a rumor, Apple wanted to give the iPhone an Apple Pencil for a few euros this year, but then decided against it – even though mass production is said to have started. This was discovered by leakers and Twitter users Duan Rui on the Chinese platform. However, the information should be taken with caution, since the source has hardly appeared so far,
Codename "Marker": Apple Pencil for iPhone 14
According to the social media platform, Apple is said to have been working on or is still working on a new Apple Pencil codenamed "Marker". This should already be presented in September with the new iPhone models. According to the leak, it should support iPads as well as the new iPhone 14 and iPhone 14 Pro. However, one thing would have surprised me in particular: the price. According to the post, the new pencil should only cost around 60 euros or 50 US dollars and would therefore be significantly cheaper than its two predecessors.
--Advertisements--
However, the low price shouldn't include "the full package" of the two predecessors, but rather entail some compromises. The Lite version would have done without a pressure sensor and a battery. To replace the latter, the stylus should draw its energy from the display. It would also have been perfect for the iPad 10, which has had to face some criticism. After all, Apple still uses the Apple Pencil (1st generation) here, which needs an adapter to be charged due to its Lightning connector. Apple could have circumvented the problem with the new pen.
In addition, Apple had already produced more than a million units and then decided against the publication for unknown reasons. The "marker" could therefore also be the reason why Apple postponed the introduction of the iPad. Usually, the company briefly introduces the iPad alongside the iPhone and Apple Watch. However, the change of plan made the USB-C adapter necessary, so there was a delay.
It's also not the first time we've heard that Apple is working on a stylus for the iPhone. The rumors have been around for a number of years. Accessory manufacturers had already prepared cases with pen holders for the iPhone 11.
--Advertisements--
What do you mean? Does the iPhone need an Apple Pencil or can you get by without it? Let us know in the comments.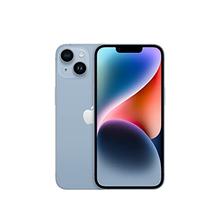 Apple iPhone 14 (128GB) – Blue

€969.99
Tag: iphone design, iphone 14, apple iphone, iphone release