APPLE IPHONE 14
In an emergency, the iPhone 14 can make an emergency call via satellite – even without cell phone reception. However, the Apple cell phone is not yet a fully-fledged replacement for a satellite phone.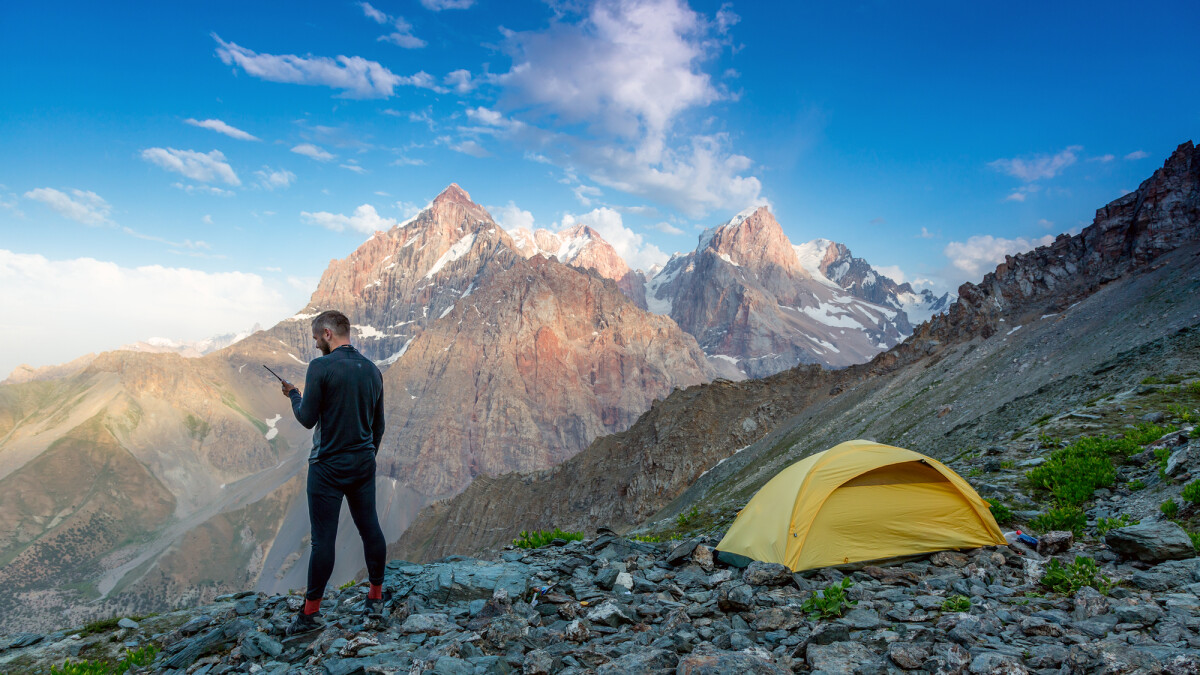 The iPhone 14 offers the option of sending an SOS message via satellite without a mobile network.
With a proper satellite phone, however, you have many more options.
However, you need an expensive subscription for this, and the device itself is not exactly cheap either.
With the iPhone 14 asked Apple presented the first commercial smartphone with a satellite function for sending emergency calls in the fall. meanwhile is the function also in Germany accessible. But does the iPhone really replace a satellite phone?
A satellite phone can do what an iPhone 14 cannot

First of all: The advanced satellite function on the iPhone 14 is a big niche feature. It only works when you are outdoors and the weather is good. Even then, you can only send short messages intended to alert the emergency services in emergencies. Sending takes a few minutes because the bandwidth is so low.
The same is with a satellite phone like that Garmin inReach Mini 2 or the inReach Messenger possible: You can also send an SOS message here, which is forwarded to Garmin's own emergency call center. There is a special SOS button on the device for this, and you can communicate with the control center via chat.
Even more features with a satellite phone

But the satellite phone doesn't stop there. With the Garmin inReach Mini 2 you can actually communicate with any phone number and any e-mail address in both directions – including contacting your friends and family. There is also the option of navigating via GPS with extremely high accuracy.
Also interesting…

Other features of the inReach Mini 2 include a solid 14 days of battery life (compared to the iPhone 14's two days) and a trackback feature for hikes. You can also view the weather at any time, even without an internet connection. You can set up the satellite phone even better with a smartphone app.
The cost issue

An iPhone 14 starts at a very high price of 999 euros. In return you get the limited satellite functionality, but also a fully-fledged smartphone. Garmin's satellite phone costs 399 euros and requires a subscription, which costs between 20 and 80 euros per month – depending on how intensively you want to use it.
It is important, however, that a satellite phone should not replace a normal smartphone. It is just a device to be used in emergencies and on expeditions. So you have to consider paying the cost of both devices if you really care about carrying a real satellite phone with you.
Do I need a satellite phone?

Unless you're an extreme sports enthusiast, adventurer, or expeditionist who spends a lot of time in dangerous areas without network coverage, the answer to this question is probably no. And even then, many people might be happy with what an iPhone 14 offers. Because if you only want to use the satellite function in an emergency, the iPhone 14 will be a good choice.
Purchasing a satellite phone like the Garmin inReach Mini 2 is only worthwhile if you have the money and absolutely need features such as a weather forecast or contact with friends and family in regions without a mobile network.
Don't miss anything with the NETWORK-Newsletter
Every Friday: The most informative and entertaining summary from the world of technology!
Tag: iphone design, iphone 14, apple iphone, iphone release