Gadget of the Month

Instead of virtual reality glasses, there is only a new iPhone again – with a function that you will hopefully never need
Actually, our columnist wanted to introduce the new virtual reality glasses from Apple. But it turned out to be just a new iPhone again. Is that bad?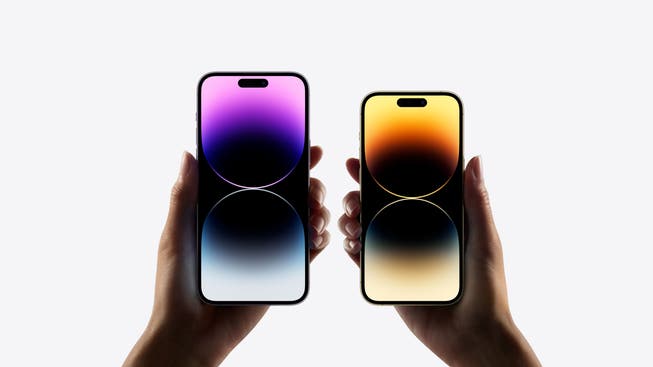 Actually, I wanted to introduce you to Apple's new virtual reality glasses. But it turned out to be just an iPhone again. Number 14. If this bores you, don't complain to me, complain to Apple. The glasses you were definitely looking forward to will definitely be coming next year. Or next but one. Or never – like the Apple Car? I don't know it. But I am confident that the glasses will come, because at some point Apple will need a new gadget, otherwise the fermentation process will start and Tom Cook will bite the bullet.
Oh, you don't want VR glasses at all? Don't want to step into the future in seven-league boots? I understand. And that's probably why I can't discuss fancy glasses here. Just a new iPhone. Number 14. Apple, you have to give the group that, knows how to take the needs of its customers seriously. Everything as we know it.
Even Steve Jobs' daughter Eve now makes fun of Apple's corporate policies. She doesn't see a difference between iPhone No. 13 and No. 14, as she explains to her followers with a meme in an Instagram story.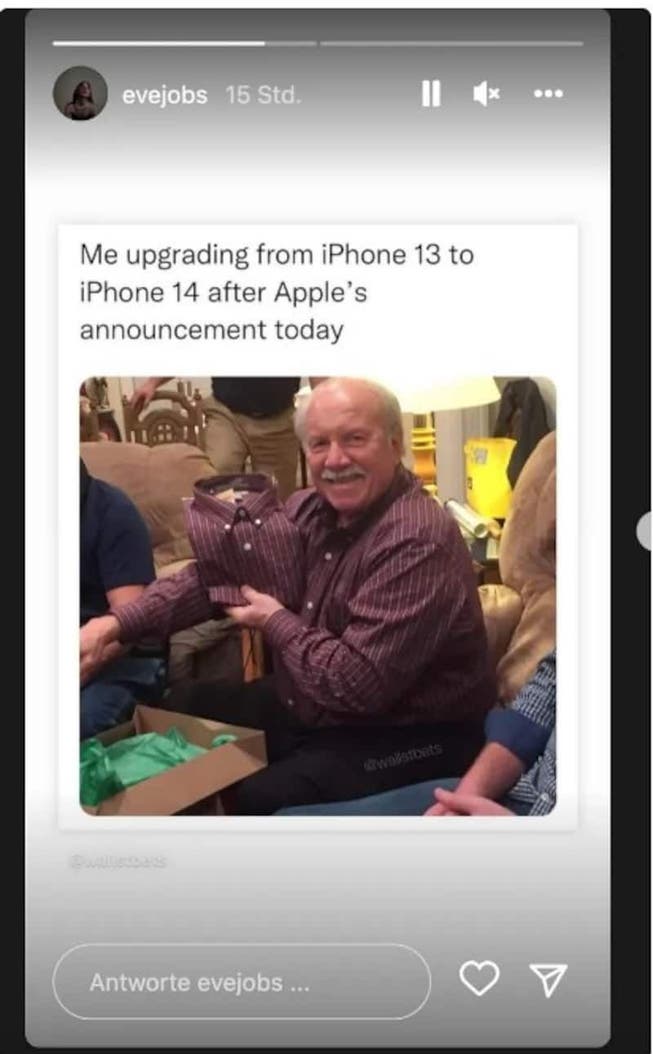 Just no surprises! folding phone? Should others do. VR glasses? Maybe later. Over the dry spell from iPhone to future gadget, the overpriced Airpods save us! That is Apple's doctrine. At a time when people would rather want less technology than more, that's fitting.
The average smartphone user unlocks their device 110 times and wants to do it less. The always-on displays of the new iPhones help here: the most important information such as appointments, push notifications and weather data is always displayed on the lock screen.
And what else does the iPhone 14 have that number 13 doesn't have? For example this: An action mode to record videos in motion more stably. I tried this with the iPhone 14 Pro Max. Looks good. But do I need it in everyday life? I don't run around filming that often. Of course, the cameras have also gotten better – especially in low light, Apple claims. Sorry, I hardly see a difference. Then there is another function that you would prefer never to need: the iPhone 14 should use its sensors to detect a car accident and initiate an emergency call.
Apple wants to leave nothing to be desired: Videos recorded in 4K and HDR can now be edited "on the fly" on the device. I bet 93.7 percent will never need these features. But 99.7 percent will count themselves lucky with the new phone. That speaks 100 percent for Apple.
Tag: iphone design, iphone 14, apple iphone, iphone release